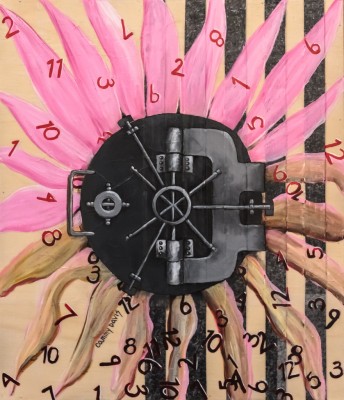 $425.00
I just finished "Controlling Time".  This is my second piece in a series entitled "Who Has The Time?".  This one is about my need to keep my life scheduled so it doesn't become chaos, but the stress that causes others around me and in effect, the stress it causes me to try and control time.
This piece measures 20-3/4″ x 24″ and is mixed media on panel.
** Original work becomes the property of the buyer. Seller retains all rights to digital images, including the right to reproduce and sell as prints and the right to use for promotional purposes.
This piece is currently hanging at Boulevard Coffee in Ashland. Please contact Theresa Ackerson, artist representative from Creatively Speaking with questions or to purchase. 541-941-0855