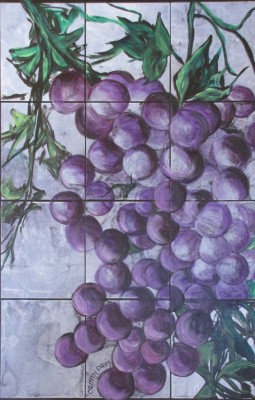 So, I just finished the big project I've been working on.  Big sigh of accomplishment.  It's being printed and hits the stands on Monday.  I hope it gets a positive reaction and makes people smile.
Now I have to switch gears and move on to the next thing.  Yesterday I delivered a wine themed painting to Anne from Art Presence.  The World of Wine event asked the gallery to display 3 paintings for their event.  I was so honored to be asked!  This is the one I turned in.  I named it "Mazzy and Merlot" after a poem I had written years ago.  On a whim I glued the poem to the back of the canvas.  Not sure if people will respond well to that or not.  Hmm..  I am planning to include some of my words in the "Trust" project I've started (and have not had time to work on…sigh).  The poem blip is:
Mazzy and Merlot: softness, laughter, red sweetness, touches soft, whispers hard, touch me here, make the world go away, disappear in the sweet redness of tomorrow.
The actual Art Presence wine themed exhibit will start on Friday, which is Aug 31st and run through September.  It will be open on the weekends, including during Jacksonville Celebrates the Arts (Aug 31-Sept 2).  I've seen a few glimpses of other artists work.  It's going to be a great show!  Oh, I'm doing "wine-themed" necklaces and cards, which will make great gifts, they will be available for purchase at Art Presence.