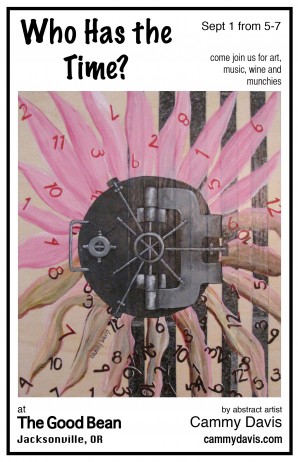 "Who Has the Time?" at the Good Bean in Jacksonville, Oregon.
I'm really excited about the exhibit.  The first painting for this series is called "Time Heals".  I painted it when going through a break-up.  I wanted a way to work through my emotions.  The image starts with tears and blood, then moves to growth and eventually the sun comes out.
When I finished that painting and life calmed down, I started looking at others way time affects my life.  A big one for me is scheduling.  I feel like my life is in control when I have it scheduled and everything is in order.  The problem is, my life isn't just about setting rules and expecting others to fit into my world. My painting "Controlling Time" (the one on my flyer) symbolizes me trying to control time, locking it down and it escaping, dying and withering.