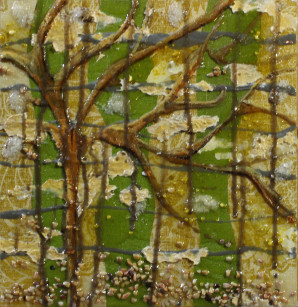 Cammy Davis: Living Images
"Keep close to Nature's heart… and break clear away, once in a while, and climb a mountain or spend a week in the woods. Wash your spirit clean."
-John Muir, Alaska Days with John Muir.
In 1972, when I was seven years old, my parents decided we were going to be hippies and live off the land. They sold their motorcycle shop and our house in California and bought and Airstream travel trailer. The only saving grace for me was that they bought a beautiful wooded piece of land with a stream running through it for us to live on. The raindrops would ping on our aluminum roof and drip down the windows. I could walk out the rounded metal door and be in a playground of nature, complete with sword ferns to build the teepees with, trees to climb, and the river, populated with salamanders and tiny fish.
Because I am drawn to the contrast of nature and industrial materials, Many of my paintings feature trees, dripping water, bursts of colors, flowers and metal. This contrast was present in my childhood and remains so in our society. I see most of nature when encased in metal, driving down an asphalt highway.
On a recent trip to Napa Valley, I was distracted by the sight of beautiful, black, spindly trees on hills of wheat colored grass. I assumed they were the result of a forest fire. There was no need to take a photo, for it had become my memory, and was already transitioning in my mind into new creation. Shortly after the trip to Napa Valley, I drove to the Oregon Coast where again I was drawn to the trees. The trees' lines, colors, and the darkness where they grew close together, the variation of greens when the sun hit the leaves and needles captured my attention.  During the drive, I was again in metal, looking at nature and the two collided in my mind.
When I got home, I started my current series called The Trees, where I use a mixture of textures and colors to paint the images my mind had in store. I love the way the strip of aluminum under the trees peeks through, twinkling when the light hits.  I become immersed in painting one image, but when I retire, new images fill my mind, about how to move the series forward and create the final piece.
This series has progress from simple black, to a lighter interpretation.  My current piece portrays sun peeking between the trunks and branches.  My paintings often progress this way.  Perhaps indicating my own internal thought process.
My goal in life is to inspire people to enjoy art, without being intimidated by it.  I have produced YouTube tutorials to show artists how to begin building their own panels, gallery tour videos that show what to expect when going to an art opening, and process videos that show one piece of my art from conception to completion.  I find this process to be the most interesting part of art, and I often show it either in the paintings, or in the posts and videos I do about each piece.
A good painting makes me want to experience each of the layers.  Cullen Pope commented on my Black Trees video, saying "one word comes to my mind when I watch your video: Chocolate."  I kept thinking about that.  What did he mean?  I think it's a similar feeling to the one I try to describe as wanting to "swim through the painting."  You see something and are drawn to its layers, textures, colors, and the tangible part of the art. You want to experience it, feel it, be part of it.  Chocolate.
When I create art, I have to be in my own mental space. Part of my process involves allowing myself to feel things, which is not always easy. It's as if I have to let down the guards from my everyday life and just be myself, which is vulnerability.  When I am finished painting for the moment, I am open, and it's the time I would like to be near people.  However, I know intense emotion scares people,  so I save that vulnerability for my art.  People respond to it because it's relatable in a non-pervasive way.  That is why art is so important to our society:  it allows you to feel.
There are usually so many things in my mind that I want to paint.  It's my way of understanding life.  My usual way of getting inspired is to go out in nature, to hike or sit by the river, close my eyes, and listen to the sounds, letting my mind wander and create.  I also love visiting galleries, where other artists inspire me.  Music inspires me as well, and I usually paint with music in the background, using carefully selected playlists based on my mood.  Good conversation is another good source of inspiration, because it opens me up and allows me to think freely.
It can be difficult to choose art over our practical fears. My interest in art started as a child, when I was surrounded by the art of the outdoors. I then took every art class I could in school.  In college however, I tried to be practical, since I was by then a single mom, and afraid of being a "starving artist." Because of this fear I forced myself to declare a different major: one in Interior Design.  I believe the mix of art and interior design, made me a stronger artist, because I have always been drawn to geometrical grids,  and rhythm of repetition. The snapshots of my life consist of grids in man-made items like fences, buildings, grates on the road as well as in nature. Trees lined up in succession, blades of grass, both neat and off-kilter, flower pods, and the center of a poppy all share a rhythm.  Usually when I'm drawing a picture in my mind, I am also laying it out on the canvas, imagining how it will balance and the viewers eye will move across the piece.
In 2008 when the economy fell, my "secure employment" ended.  I had taken the road of security so I could support my family, but it was not as secure as I believed, this time I decided to take the path labeled "starving artist" and figure out how to support myself through my art.  I adopted a "no fear" attitude of trying anything, speaking up, and educating myself.
One of my first projects was to start a YouTube channel, and create my first tutorial about putting wire on the back of a painting.  At first I felt discouraged because the video only received couple views during the first month.  My daughter laughed at me, saying, "I can't believe it hasn't gone viral Mom, it's such an interesting topic!"  Still, I plowed on.  At a time when other artists were saying, "I don't do Facebook," I started my own page. I am frightened by technology, but I do not let it limit me.  I started a blog, then an Etsy site, then my own official website.  I joined Twitter, Pinterest and Instagram.  My videos range from gallery tours to tutorials to portfolio videos and have been viewed over 100,000 times.  They have still not gone "viral," but 100,000 people have been exposed to my art who would not have heard of me otherwise.  Social media is a way to promote myself, and allows me to show who I am as an artist and person.  The picture that I paint with social media is of who I am, what I feel, and the emotion behind the work.  This picture gives readers/viewers a connection to me, and an understanding that allows them to have that emotional connection to my art.
Published at EATT Magazine, November 2014
Edited by Daniel Alrick
For more information on EATT Magazine, visit EattMag.com