…And now part 7 of our ongoing tribute to radio stations and DJ's that focus on the local scene and the community.
"Art on the Airwaves" with Cammy Davis
VIBES: When and why did you decide to do a radio show about art?
Cammy: I started Art on the Airwaves about two years ago after being interviewed by Martin Ball on Locals Only.  I was really nervous going into the interview, as it was my first time on the radio, but I've always believed if you want something, you should ask for it, not be intimidated by the possibility of someone saying "no".  So when I left, I turned to Martin and said, "I want to do a show about art, can you make that happen?"  And he did.
VIBES: Is everything local or do you have other features as well?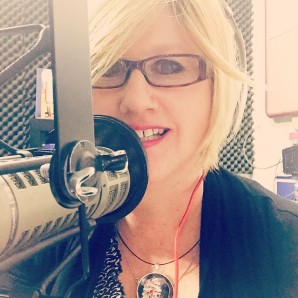 Cammy: When I started the show, I focused on local art events, then eventually I started including interviews with local artists and found it much more interesting.  This year I made another change, I realized I could help the arts community more by including people outside of the area as well and build up an audience through podcasts, so occasionally I have call-in guests, like magazine editors, artists and gallery owners from outside of the area.  I also started doing the show as a live web cast on YouTube.  In order for it to appeal to people outside of the area and even outside of the country, I wanted the topics and discussions to be relevant to all artists and entrepreneurs.
VIBES: How do you show the art visually on the radio?  You mentioned YouTube…
Cammy: Yes, but most of my guests are not just artists who talk about their art.  I do two 2o minute segments with my guests.  The first 20 we chat about their art and exhibits, inspiration, etc.  The the last 20 we talk about the business side of art, which is when the discussion gets really interesting, talking about their challenges and tips for other artists.  Art on the Airwaves has it's own website, artontheairwaves.com, and I do a post from each show with pics from the show and links to their websites.  We also have a Facebook page.  So, if people are following the show, they can look on the sites prior to the show, during or after to see more about the guests.  They will bring in images or books, etc sometimes and hold them up for the YouTube.  That part is fairly new, so we're still working out the system for how to utilize the live webcast well, but it's still fun to watch us stumbling around in the small KSKQ studio!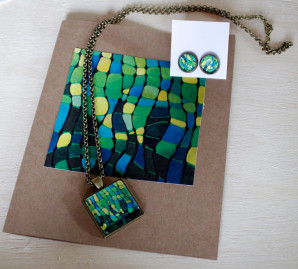 VIBES: Name some local musical performances in the past that you remember well and why?
Cammy: Well, Darrin Wayne.  He had played for free last year for an event  I created for our area called Edgy in October.  When I saw a Facebook post that he was part of the Rising Stars competition, I reposted and said, "Edgy's very own Darrin Wayne is part of Rising Stars" and invited him on my show.  A few weeks later I called him and asked if I could do a music/art video to his song.  You can find it on YouTube, search "Playin' Hooky on a Sunny Day".  I have three other music/art videos in the works right now with local musicians, Martin Ball, Jeff Kloetzel and Ol' Mount'n Due.
VIBES:  You're an artist yourself.  How long have you been painting and what is your style?
Cammy: I am a mixed-media artist and my style is abstract expressionism.  My goal is to put my emotions on canvas.  I want people to feel something when they look at my art, to be moved by it.  I'm learning the only way to do that is to step away from the business side of art and the stress of life, close the door, turn off the phone, turn up the music and just be with myself.  I think I've always been an artist, but it's been 7 years that I've focused on it.  I was a single mom when I raised my daughters so I worked in escrow to support my family.  I think my soul died a little with that job.  I am very driven now, because I am finally doing what I've always wanted.  And that is part of why I try to help our arts community as much as I do.  I want other artists to be able to support themselves with their passion.
VIBES:  Who is the most famous person (or people) that have been on your show?
Cammy:  Some of my favorite guests have been Lloyd Haines and Denise Baxter talking about the Haines Foundation Grants, Jennifer Pepin from the J. Pepin Gallery in Portland, talking about her gallery to show the "beauty that can come from having a mental illness."
VIBES: Tell us about EDGY.  Do you have sponsors, or underwriters?
Cammy: Edgy is an event I created in 2013 to help build a strong cultural tourism destination in our area.  My idea was to pair artists with venues and together they would create an "edgy art event" that I could promote.  This year is the 3rd annual.  My goal was to keep the costs down so all artists and small businesses could participate.  The cost to each is just $25, this will cover liability insurance to be able to hold the events.  Last year we had 32 venues participate, including Britt Festivals, the Ashland Armory, the Holly Theatre and many galleries and wineries.  To be able to continue with the event this year, I needed help.  I was honored last year to receive a Haines Foundation Grant to pay for the website and part of the cost to trademark the name.  This year I had a sponsor step up and pay a modest amount that enabled me to contract a few local artists to help coordinate.  His name is Wyane Ching and his award is called the "Chings Lucky Ice Pop Stick Nano Fund".  I thank him for the bottom of my heart for helping me to continue with this event.  And no, none of the funds will go to me, they are all to help support the event.  I want to mention my "Edgy Crew" for this year.  Artists Whitney Rolfe, Christoph Sharp and Martin Ball are the event coordinators, Jeff Kloetzel is the music director and Blake Helmken is the videographer.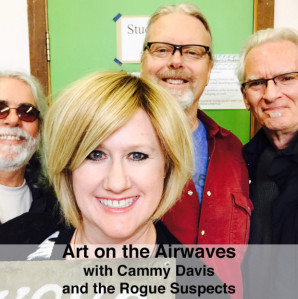 VIBES: When is this years event and where?
Cammy: In the past two years, the event was called Edgy in October and took place everywhere from Kerby to Ashland during that month.  This year we are changing it up to accommodate schedules.  The events will take place from August through October.  The first one is called Art.Music.Passion and is on August 15th from 4-10 at Club 66 in Ashland.  It's an event created by Edgy's Whitney Rolfe.  Other events will be listed on the website.  We will also be holding the 2nd annual Edgy Art Contest.  Last year we had 84 entries.
VIBES:  Do you do any other types of artwork?
Cammy: I created a line of jewelry for people that love art but can't always afford originals.  They are made of images of my art work and are available throughout Oregon, including the Made in Oregon stores, as well as locally at Crown Jewel in Ashland and Jacksonville, Rogue Gallery in Medford, PUSH Gallery in Ashland, Tierra del Sol and Emelia's Closet in Grants Pass.
VIBES: How can people find out more; see your paintings; and contact you about EDGY and Art on the Airwaves?
Cammy: People can contact me at [email protected]  And please visit cammydavis.com for my art and artontheairwaves for more about the radio show/podcasts.  If they would like to see my art in person, currently it's hanging at Enoteca Wine Bar and PUSH Gallery in Ashland, J. Pepin Art Gallery in Portland and Second Street Gallery in Bandon.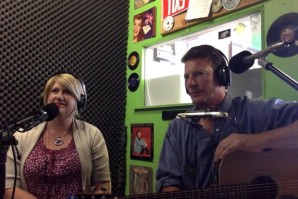 Listen to "Art on the Airwaves" with Cammy Davis; a bi-monthly show heard 1st and 3rd Fridays from 1 to 2 pm on KSKQ 89.5 fm or online at KSKQ.org.
Make sure you pick up Jefferson State Vibes, a free publication, at convenience stores throughout the Rogue Valley!