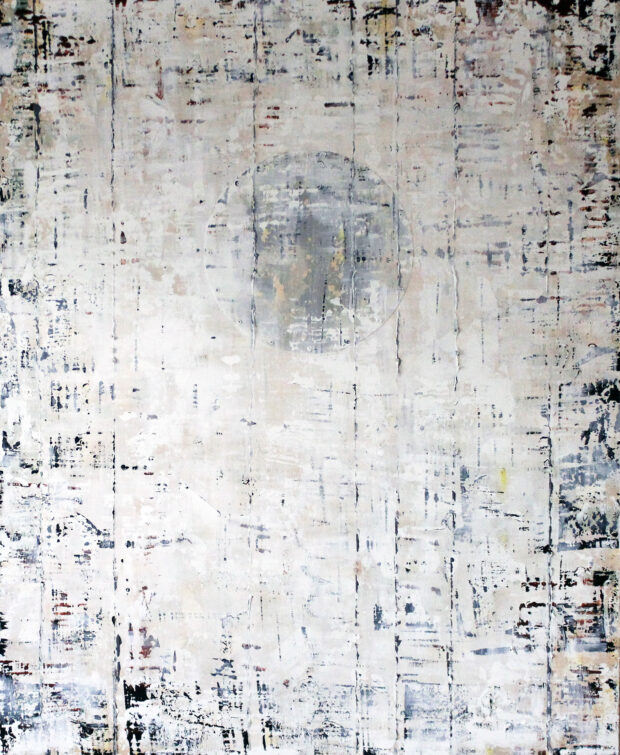 I recently lost my best friend.  I crawled into my darkened bedroom for days.  Half way through the 3rdday I told myself, "do whatever you need to get yourself out of this room and back to life."
I opened my bedroom door and went outside and sat in the sunshine instead, even though, at that moment, the sunshine hurt.  In the weeks that followed, each day despite waking up crying, I opened my door and went outside into the sunshine.
And then…my granddaughter entered the world.  She's a sweet, tiny, perfect human being.  This beautiful moment of life, made getting out of the dark room worth it.  I wish my friend, Lisa, had found her way out of the dark room.  I will always miss her.
I hope that we can all take a moment to take a breath, to breathe in life, to mourn for the beautiful souls that we miss and to welcome the sheer joy of new life.
This was painted to "Every Breath You Take" by the Musicboxers.
This piece is acrylic on panel and is 48″ x 60″ x 1-1/2″.  Abstract Expressionism by Southern Oregon artist Cammy Davis.
** Original work becomes the property of the buyer. Seller retains all rights to digital images, including the right to reproduce and sell as prints and the right to use for promotional purposes.