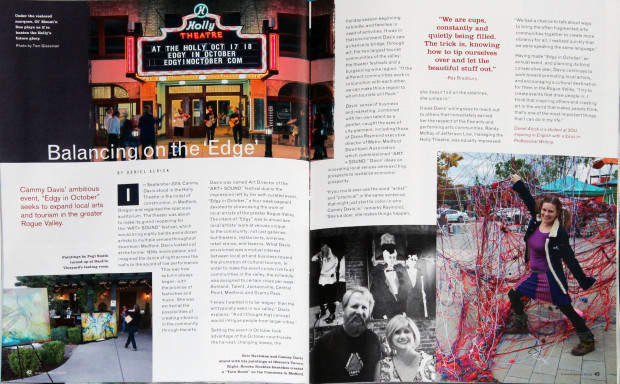 Balancing on the 'Edge': Cammy Davis' ambitious event Edgy in October seeks to expand local arts and tourism in the greater Rogue Valley. By Daniel Alrick
"We are cups, constantly and quietly being filled. The trick is, knowing how to tip ourselves over and let the beautiful stuff out."
 -Ray Bradbury.
In September 2014, Cammy Davis stood in the Holly Theatre in the midst of construction, in Medford, Oregon and regarded the spacious auditorium. The theater was about to make its grand reopening for the "ART+ SOUND" festival, which would bring 80 bands and a dozen artists to multiple venues throughout downtown Medford. Davis looked out at the former 1930s movie palace, and imagined the dance of light across the walls to the sound of live performance. This was how autumn always began: with the promise of festivities and music. She was excited at the possibilities of creating vibrancy in the community through the arts. Davis was named art director of the festival due to the impression left by her self-curated event "Edgy in October," a four week pageant devoted to showcasing the work of local artists of the greater Rogue Valley. The intent of "Edgy" was to showcase local artists' work at venues unique to the community: not just galleries, but theaters, restaurants, wineries, retail stores, and taverns. What Davis envisioned was a mutual interest between local art and business toward the promotion of cultural tourism. In order to make the event conducive to all communities in the valley, the schedule was assigned to certain cities per week: Ashland, Talent, Jacksonville, Central Point, Medford, and Grants Pass.
"I knew I wanted it to be "edgier" than the art typically seen in our valley," Davis explains. "And I thought that concept would intrigue people from larger cities."
Setting the event in October took advantage of the October country: the harvest, changing leaves, the holiday season beginning to kindle, and families in need of activities. It was in that environment Davis saw a chance to bride through art the two largest tourist communities of the valley: the theater festivals and a burgeoning wine region: "If the different communities work in conjunction with each other, we can make this a region where tourists flock to."
Davis' sense of business and marketing combined with her own talent as a painter, caught the eyes of city planners, including those of Diane Raymond executive director of Metro-Medford Downtown Association, which commissioned "ART + SOUND." Davis' ideas on innovating local venues were exciting prospects to revitalize economic prosperity.
"If you could ever use the word "artist" and "practical" in the same sentence, that might just start to color in who Cammy Davis is," remarks Raymond, "She's a do-er, she makes things happen, she doesn't sit on the sidelines…she jumps in."
It was Davis' willingness to reach out to others that immediately earned her the respect of the fine arts and performing arts communities. Randy McKay of Jefferson Live, managing the Holly Theatre was equally impressed: "We had a chance to talk about ways to bring the often fragmented arts communities together to create more vibrancy for all, I realized quickly that we were speaking the same language."
Having made Edgy in October an annual event, and planning its third consecutive year, Davis continues to work toward promoting local artists, and encouraging a cultural destination for them in the Rogue Valley.  "I try to create events that draw people in.  I think that inspiring others and creating art in the world that makes people think, that's one of the most important things that I can do with my life."
You can find out more information about Cammy Davis at cammydavis.com and edgyartevents.com
Writer Daniel Alrick is a student at SOU majoring in English with a focus on Professional Writing.