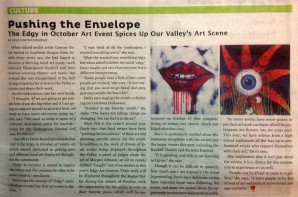 Rogue Valley Messenger, By Sara Jane Wiltermood, Published September 26 2014
Pushing the Envelope, The Edgy in October Art Event Spices Up Our Valley's Art Scene
When mixed media artist Cammy Davis moved to Southern Oregon from Seattle three years ago, she had hoped to discover a thriving local art scene—with Ashland Shakespeare Festival and Britt Festival covering theater and music. But instead she was disappointed at the lack of opportunities for artists in the Valley to create and share their work.
So she took matters into her own hands.
"I thought, 'If we are going to get people here from the big cities and if I am going to support myself as an artist here, we need to have more art events going on," she says. "We need to make it more of a cultural destination point for tourists—come for the Shakespeare Festival and stay for the art."
One effort Davis launched towards that end is the Edgy in October art event—an entire month dedicated to getting new and different local art displayed throughout the community
"Edgy in October is meant to inspire the artists and the community alike to be more creative," says Davis.
Davis says the concept of "Edgy" started when curated her first art event in the area.
"I was tired of all the landscapes; I wanted something more," she says.
What she wanted was something edgy. But when asked to define the word "edgy," Davis laughs and says that everyone has a different interpretation.
"Some people have a look of fear; some people get excited," she says. "It isn't saying that you need to go blood and guts, just step outside the box a bit."
Davis says staging the event's scheduling isn't all about Halloween.
"October is my favorite month," she sighs. "The leaves are falling; things are changing. You can feel it in the air."
Since this is the event's second year, Davis says that local artists have been "pushing the boundaries" of their art and planning specific pieces for the event. In addition to the work of dozens of local artists being displayed throughout the Valley, a panel of judges chose the art of Morgan Johnson, an oil on canvas dubbed "Caught" out of 64 entries in this year's Edgy Art Contest. Their work will be displayed throughout the Rogue Valley during the month of October, with the opportunity for the public to vote on their favorite piece, which will be announced on October 17. (For complete listing of venues and shows, check out
EdgyInOctober.com)
Davis is particularly excited about the numerous receptions with the artists and the larger venues this year, including the Randall Theatre and the Britt Festival.
"It is growing, and this is me learning as I grow," she says.
Though it can be difficult to quantify how much more art exposure the event is generating, Davis says that some artists have reported more sales following the event, and many are excited about the opportunity to even show their work in public.
"So many artists have never gotten to put their artwork out there. All of the participants are thrown into the same pool. This year, we have entries from a high school sophomore all the way up to professional artists who support themselves with their art," Davis says.
She emphasizes that it isn't just about the artists; it is a chance for the community to experience art as well.
"People can be afraid to come to a gallery," she says. "I want people to be less scared of art and make it more casual and approachable."