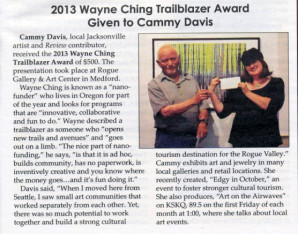 Thank you to Whit Parker and the Jacksonville Review for including this article online and in the October edition of the Jacksonville Review!
2013 Wayne Ching Trailblazer Award Given to Cammy Davis
September, 2013 – Medford, Oregon.  Cammy Davis, local Jacksonville artist, received the 2013 Wayne Ching Trailblazer Award.   The presentation took place at Rogue Gallery & Art Center in Medford because that was the place they first bumped into each other, during an Arts Alliance of Southern Oregon Panel Discussion on "Why Art Matters in Our Community".
"When I moved here from Seattle, I saw small art communities that worked separate from each other.  Yet, there was so much potential to work together and build a strong cultural tourism destination for the Rogue Valley," Cammy said.  "Wayne has been a huge support in the small amount of time I've known him, generously supporting an art program at the Ruch Elementary School's summer camp.  The collaboration included Sean Noman, a local 3-d artist, Jackie Williams, the parent who spoke up at the panel discussion and teachers, principal and volunteers at Ruch Elementary.
Wayne Ching is a "nano-funder" who lives in Oregon for part of the year and looks for programs that are "innovative, collaborative and fun to do."  Wayne described a trailblazer as someone who "opens new trails and avenues" and "goes out on a limb that is not completely safe because she has to try something new."
There are five characteristics Wayne feels are indicative of a trailblazer and that describe Cammy.  The first is reliability, "when you ask her something and she'll get back to you, really faster even, than any of my closest friends."
The second is her ability to bring people together, shown by the group of friends who were present at the award ceremony, all brought together by art events.  The third is her ability to come up with unique and innovative ideas in approaching the tough problem of marketing art.  The Fourth is her energy.  And the final characteristic is her ability to include the community at large in her endeavors.
I asked Wayne to tell me a little bit more about his idea of nano-funding.  "If a number of $100 nano-funders, lets say 5, get together they become 5 rockets that can support a project that costs more to launch," says Wayne Ching.  "The nice part of nano-funding is that it is ad hoc, builds community, has no paperwork, is inventively creative, the end product is visible in some way, and "you know where the money goes" and it is fun doing."
Cammy exhibits art and jewelry, made from her art, in many local galleries and retail locations.  She recently created "Edgy in October" an event to foster the local communities working together towards a strong cultural tourism industry.  Cammy also produces "Art on the Airwaves" on KSKQ, 89.5 on the first friday of each month at 1:00, where she talks about local art events.  For further information on Cammy Davis and to watch local community and art videos, please visit  https://cammydavis.com
Cammy Davis
PO Box 1144, Jacksonville, Oregon 97530, 425-891-5613
[email protected], https://cammydavis.com